Install Pop 20.10 next to Windows 10 in a multi-boot setup. Similar steps can be followed to install Ubuntu 20.10.
Update - PopOS 21.10⌗
If you are doing a fresh installation of the PopOS. I would recommend using their 21.10 version as most of the features will work out of the box without needing to install adding packages as documented.
Still doesn't work:
Fingerprint login
Microphone mute & ROG button on the top of the keyboard
Function keys to control fan speed
Demo Mode on Live USB⌗
Fast startup option in Windows 10 and the secure boot option in BIOS needs to be disabled
Download PopOS 20.10 with NVIDIA drivers ISO from the official site
Create a live USB following the guide
Restart the laptop and press or hold the ESC key when the Republic of Gamers logo is seen on the screen
Select second EFI partition to boot into PopOS from USB
Follow the guide to try the Demo Mode
Install on SSD⌗
The steps below are to install PopOS and keep the Windows 10 system intact
Click Custom (Advanced) to make a new partition on SSD for PopOS

Click on Modify Partitions

Right-click on the main SSD partition of around 450+ GB and select resize.

Enter the sum of sizes for the new partitions and click on Resize/Move. This will create a new unallocated partition

| Name / Label | Size | File System | Use as |
| --- | --- | --- | --- |
| EFI | 500 MiB | fat32 | Boot |
| PopOS | Min. 20 GiB | ext4 | Root (/) |
| Swap | Optional | linux-swap | Swap |

Right-click on the unallocated partition and create new partitions as the above table

After partitions are modified, click on the green tick to create them on SSD

Find the new partitions and toggle the Use Partition option and choose Use as according to the above table

Click on Erase and Install

Click on Restart when the installation is complete
After installation, the laptop will load PopOS by default from now on. To use Windows 10, press or hold the ESC key when the Republic of Gamers logo is seen and select Windows Boot Manager each time.
Setup after installation⌗
ASUS Packages⌗
Install below packages to use the function key combinations, Animatrix display, fan speed, and graphic modes. A complete list of features is available at gitlab.com.
Add these packages using package manager
echo 

"deb https://download.opensuse.org/repositories/home:/luke_nukem:/asus/xUbuntu_20.04/ /"

 | sudo tee /etc/apt/sources.list.d/asus.list


wget -q -O - https://download.opensuse.org/repositories/home:/luke_nukem:/asus/xUbuntu_20.04/Release.key | sudo apt-key add -


apt-get update


apt-get install dkms-hid-asus-rog dkms-asus-rog-nb-wmi asus-nb-ctrl

Volume Control⌗
Add below lines to /usr/share/pulseaudio/alsa-mixer/paths/analog-output.conf.common file, just before the [Element PCM] section. This will also make the mute the microphone button usable.
[Element Master]
switch = mute
volume = ignore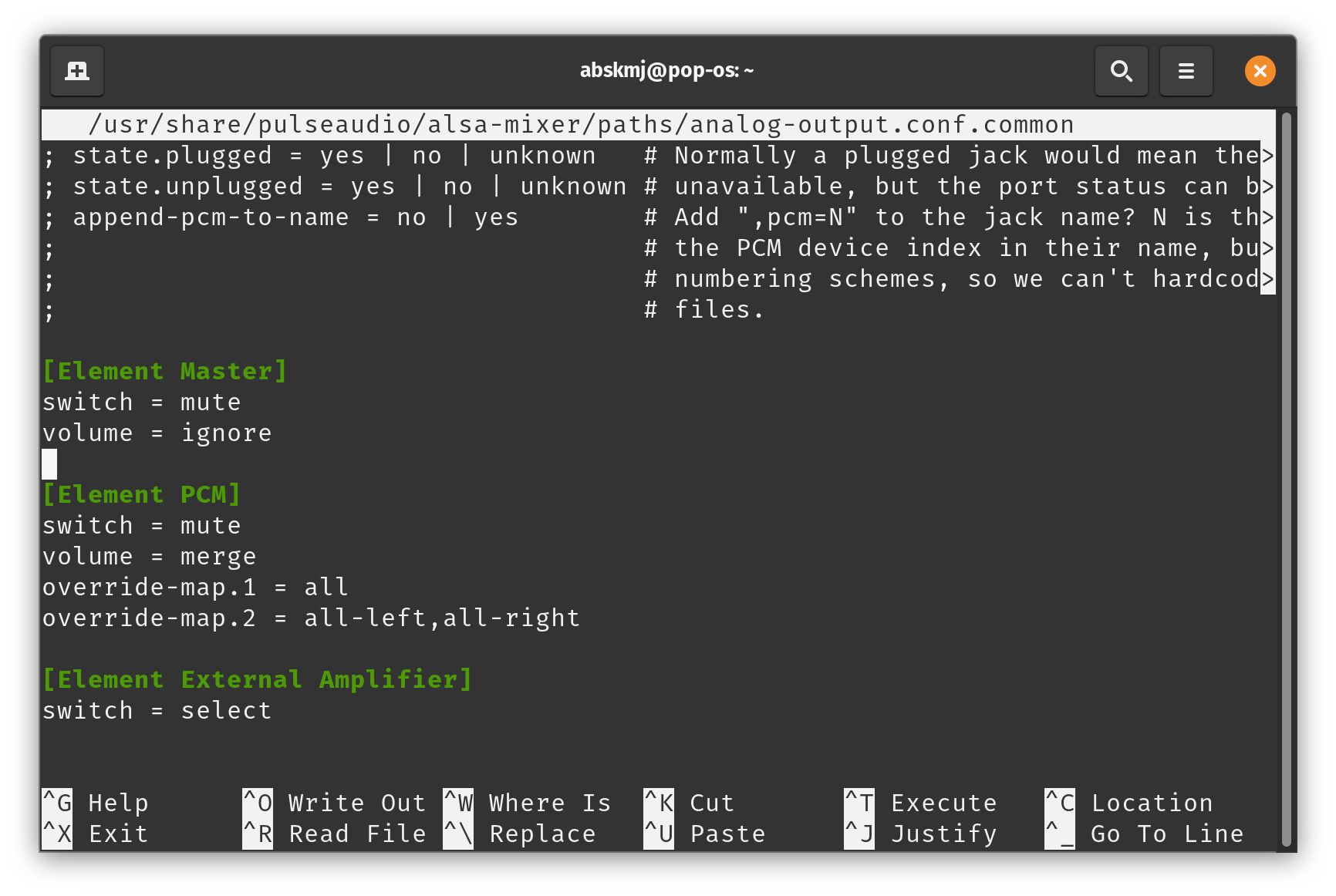 System Time in Windows & PopOS⌗
Update the below timedatectl configuration in PopOS. Details are available at support.system76.com
timedatectl set-local-rtc 1 --adjust-system-clock

Text on screen too small⌗
Out of the box, the text on the screen is too small to read. Enable Fractional Scaling in Settings > Displays to 125% or 150% for a comfortable reading.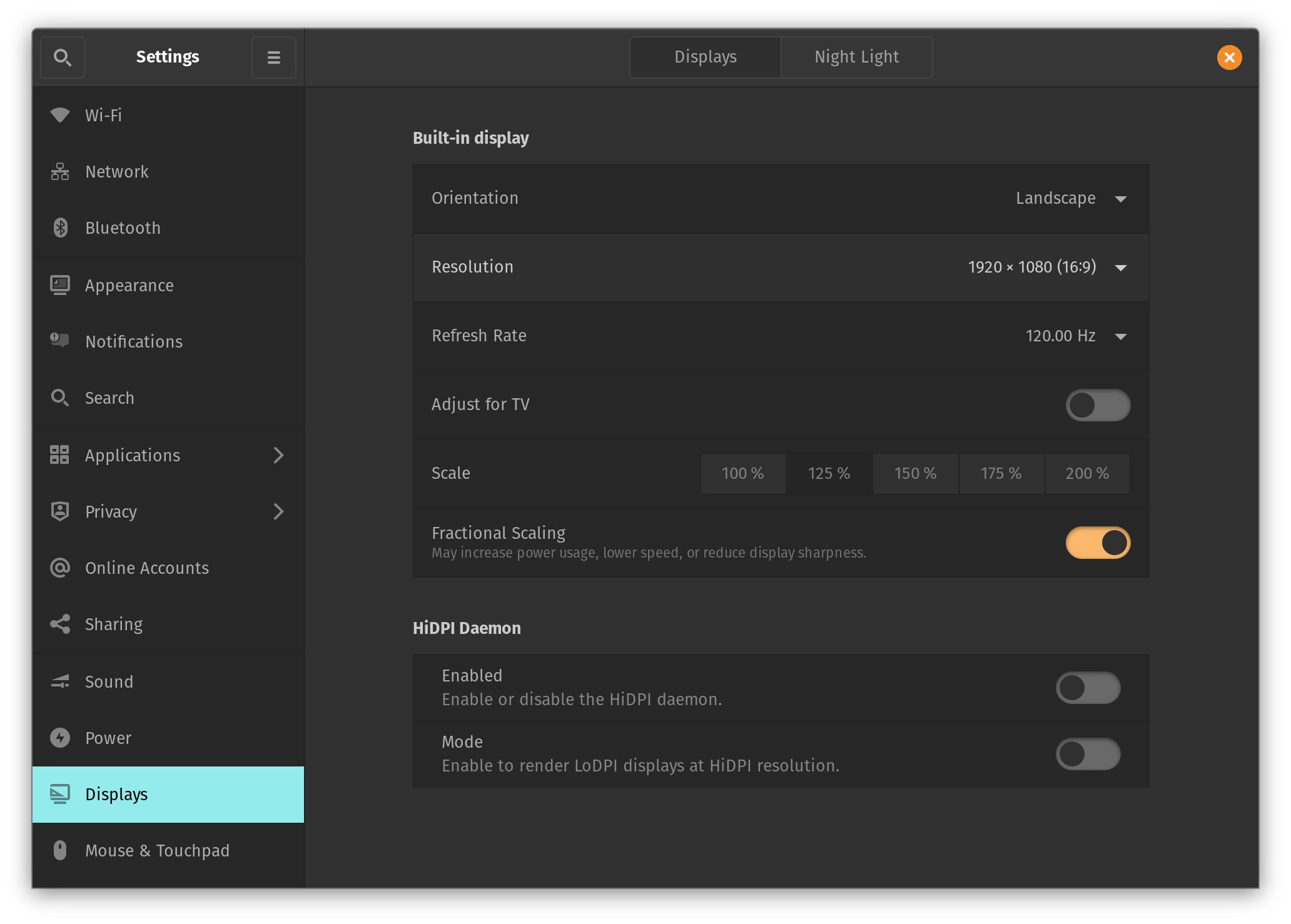 Known Issues⌗
No fingerprint login
No display in external monitor using the USB-C port (external display using HDMI port works)
Test Laptop⌗
The above steps are tested on the below laptop model.
ASUS ROG Zephyrus G14 GA401IH-HE012T
AMD Ryzen 5 4600HS
NVIDIA GeForce GTX 1650 4GB GDDR6 VRAM
8GB DDR4 3200MHz SDRAM
512GB M.2 NVMe PCIe 3.0 SSD
Without Anime Matrix
References⌗
ASUS G14 Ubuntu 20.04 Setup at reddit.com
DKMS installable module for ASUS ROG laptops at gitlab.com
Installing Linux (Pop_OS!) on Asus Zephyrus G14 at heinbio.me